Overgrown shrubs, tree branches hanging so low that the grass is dead underneath, lifeless and sparse bushes scattering the property, and rock beds infested with weeds. These are many of the common problems faced by homeowner associations who have not done proper planning for their landscape needs. The solution to this problem lies deeper than simply performing daily maintenance and upkeep – it requires the development of a long-term landscape plan. This plan needs to start with a vision for how the community will look in the future along with the development of a budget to ensure the landscaping funds are available when needed.
Develop A Vision For Your Landscaping
Every homeowner association needs to ask themselves this question sooner rather than later – what is our 15-30 year vision for these properties? While the initial plan laid the basic foundation for the area's landscaping, there is much more to think about. Yes, the community area needs to look exceptional for the first couple years in order to attract buyers, but how will it look in the next 15-30 years? 
Yearly installations of flowering annuals, re-mulching and regular maintenance by a knowledgeable horticulture-based grounds crew continually adds to the success of the long-term beautification plan. These weekly and yearly efforts however will have limited success if a long-term plan is not in place.
Develop A Timeline & Budget
In addition to developing your vision, a long-term landscape plan will assist in developing a timeline and budget for major replacements of hardscape (roads, patios) and softscape (plants and rock). 
Some necessary considerations in developing your landscape plan are the life of your retaining walls, concrete, asphalt and landscape rock. Retaining walls last about 25 years; after this time they may no longer be able to perform their function, and may begin to look less than desirable. Concrete driveways last for 20 years, whereas asphalt lasts for approximately 15 years.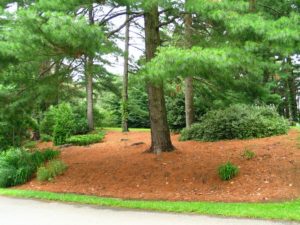 Landscape rock beds and ornamental shrubs last about 15 years, whereas structural shrubbery can last up to 50 years. This type of information needs to be kept in mind when making your initial landscape investment and planning for future budgeting purposes. As a rule of thumb, your landscape will need major overhauls every 15-20 years.
Establishing a long-term landscape plan must begin with the communication of the individual property's landscape needs to all of the HOA's residents. After this first step is complete, the requests and ideas should be brought to the HOA board in order to explore the long-term vision, and then there will need to be a consultation with a knowledgeable landscape company or horticulture expert. 
This is oftentimes the most difficult part in getting the plan started. The HOA needs to realize the importance of responsible planning so the landscaping projects do not spin out of control and use the budget instead to patch day to day issues while not gaining any ground on the necessary long-term landscaping plan.
Take Control Of Your Long-Term Landscaping Plan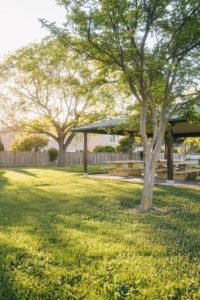 With the original landscape plan continuing to age and become more problematic, it is time to take control of your community or to modify your existing long-term landscape plan. The most important part of long-term planning is to rely on a professional landscape expert or company who understands the needs of both the HOA and your particular landscape needs. 
In order to do this, you will first need a well-developed long-term vision for the community's landscaping in order to not lose progress due to subjective or random day to day fixes. Once the plan is developed, bringing it to a professional landscaper will be the next step. They can then identify the landscape areas which are needing imminent or future service which can then be funded and budgeted for.
While you may have a great plan, you must plan for the unexpected. What happens when storms roll through and damage the community? What happens when shrubs are growing too fast or not growing at all? Will the HOA address damage to softscape by animals such as deer or rabbits? 
Many of these day to day issues will be minimized by your long term plan, but Mother Nature is always unpredictable and landscape beds will always need adjusting to keep up with the growing plants and trees. 
At a minimum, properties less than 15 years old should reserve 20% of the landscape budget, and properties greater than 15 years old should reserve 30% for extra yearly services above and beyond the weekly grounds maintenance contract. These estimates are created so the property is able to be properly maintained and the forecasted service life of the landscape is met or exceeded.
Create A Long-Term Landscape Plan For Your HOA
First impressions are so important when trying to sell a home, and the beauty of a community is showcased by well-planned and well-maintained landscaping in the common areas. To create a multi-year, environmentally sustainable landscaping plan that works within your budget, choose a reliable lawn care and landscape company who will work closely with your homeowner association board and its managers. 
If you're located in the greater Minneapolis-St. Paul, MN area, contact the lawn care and landscaping professionals at Alex's Lawn & Turf to begin your conversations about developing a long-term landscape plan for your HOA!